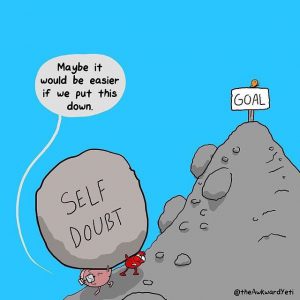 Recently, I came across a LinkedIn article on the 'Imposter' syndrome.  In essence, it is the feeling that you are a fake at what you do and you fear being called out for being an imposter.
This syndrome plagues everyone including some of us who are pursuing this law degree, perhaps past our prime. I, for one, am in my late forties. And some of my classmates are too.
When I first told some friends about my enrolment, the first response was 'Now? Really?' You still can ah?'.  Giving voice to my insecurities about being too old and too late for such a change of course in life.
Having gone through my first semester (yes, I made it!), I want to tell all of you out there: those who are still thinking about taking the leap, those are in the same boat as me and those ahead but sometimes plagued by the same fears.
IF YOU MADE IT THIS FAR, YOU ARE YOUNG ENOUGH AND GOOD ENOUGH.
I never thought I would be learning so much more than simply trying to gain a law degree. For starters, I am now a blogger, thanks to this blog initiative started by my partner-in-crime (politically incorrect!?!). For years, I have resisted jumping on the bandwagon of blogging, dismissing it as an indulgent platform for waxing lyrical about philosophical or rhetoric musings. Yet, having started to blog, I hope to share insights of my personal journey as an adult learner, that may perhaps help someone who is reading this, albeit it may still be deemed indulgent. 🙂
The four modules I went through in the first semester have taught me to think, write and read differently. The big a-ha? The art of being intentional. Intentional in how to interpret case laws and statutes. Intentional in being precise with the choice of words and making them on point. Intentional in reading beyond the prescribed study units and textbooks because law is about life.
And I have made new friends, of varying ages and diverse backgrounds, among them police officers, managing partners, business owners and social workers. All of us share a common identity, as first year noobs in SUSS School of Law. No one is better or lesser than the other, all are none the wiser.
So when you look at yourself in the mirror, and an imposter taunts, just stare back and say 'You are young enough and you are good enough'.
Sincerely,
W.