On Monday the 22nd of May at 10pm, I was told to stop typing my answers into the answer scripts and submit my property law script. Just like that, another semester is over. I am almost there. The cumulation of a semester's hard work was two 3-hour exams, frantically typed into an application called Examplify. For the uninitiated, the days of written examinations are over. I came from that era but I have learned to embrace the digital age. All I can say is that 5 semesters on, all that typing practice on 10fastfingers.com has helped. I type significantly faster as compared to the first day I entered law school. After taking numerous examinations, I have learned to actually like examinations. I think it is the most accurate and fair way of assessing a student. The environment is controlled, it is certain that the script submitted is the student's work and there is no word limit.
So now that the examinations are over, what does an SUSS School of Law student like me do?
I was previously an undergraduate from NUS and the end of examinations usually herald months of cycling expeditions, a couple of weeks of work at whatever part time job I could find and loads of outings with friends. I would usually take a couple of days after examinations to catch up on sleep and do practically nothing.
Contrast that to now. I picked up my work phone after the examinations and realised I had over 900 messages. This was a result of me going on leave for a week to study for my examinations. While I was a student for just over a week, the moment examinations are over, the weight of the responsibilities of work are back firmly on my shoulders. Sometimes I wonder how I am able to juggle so many things at one go. I think it is down to discipline. Law school has actually helped me in my work rather than cripple me. I have learned to be so much more disciplined. Going back to office less than 12 hours after the end of the examination just seems like a normal thing to do.
I am not the only one. There are many of my fellow classmates who had to return to work the very next morning. There was no rest, no let up in work even though law school examinations are upcoming or when they are over. This is what SUSS School of Law students who have to juggle work, studies and in many cases, family have to do.
For now, the studying will take a back seat. It is time to focus on work, spend time with my family and… unbox the Playstation 5 that I bought a month ago… I think I deserve it. But this explains why I have been getting less sleep in recent days!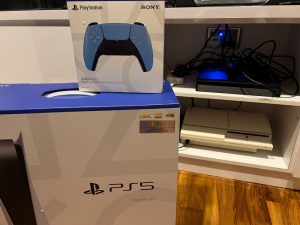 To all my fellow school mates. The examinations are over! Now we await the results. Come what may. See you on campus soon!
Yours sincerely,
Daryl