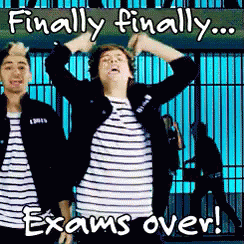 This is the first weekend in months that I am actually not cramming to finish either a TMA or revising for a TOA. All the nervous energy, the pressure, the anxieties about not being able to remember the principles, the rules, the articles, the adrenalin grinded to a halt. And it feels…weird. Almost a sense of loss.
My study buddies commented that it actually felt odd not mugging or discussing topics for TMA or TOA. I guess we must all be masochists, why else would we put ourselves through law school? Either that or we have truly assimilated into our student lives despite juggling day jobs and other adulting challenges.
We have had a really hectic 2nd semester – 4 modules, 12 TMAs, 12 PCQs and 4 TOAs over 12 weeks. Imagine having to switch from learning about alleles and toxicology, to minority oppression in a company, to understanding our constitutional rights, to appreciating the ethics we must uphold to be members of the honourable profession.
It was a test of our mettle – mentally, physically and emotionally. Most of us felt the strain, at about the 7th week mark. Thankfully, we all rallied around each other, pushing, encouraging, even our tutors. They checked in on us and reminded us to take care of our health. We were even encouraged to pick up a hobby that might help to alleviate the stress we were experiencing.
Whilst it was punishing, it was also rewarding and fulfilling. We learnt to apply the reasoning and writing techniques in Semester 1 to the hypothetical cases in our assignments even as we started to dive into substantive law. I became more certain of my 'why am I doing this' especially when the going got tough. And I realised it wasn't simply to survive law school and get that required CGPA, neither was it to ace the degree to the top of the class. It mattered not that I may not be the best amongst my peers. What matters is that I become a good lawyer with strong fundamentals.
Reflecting on my TOAs, I probably could have and should have written better scripts but like what our Vice Dean said in an email to all of us, there will always be more we could have written and points we have missed. In the end, we need to ask ourselves 'Is this worth it?'.
My answer is simple without hesitation:
Absolutely.