Recently I tested positive for Covid-19 on the 23rd of October. It was a typical Saturday. I had gone to the gym in the morning with some friends from law school (yes we do have a group of us who are focused on keeping healthy and will exercise on Saturday mornings). I did not feel unwell at all. I went for breakfast after my exercise and headed home after. I spent Saturday afternoon working on my Constitutional Law assignment that was due the next day. I usually complete my assignments at least a week before the deadline but this time round work in the office was so hectic that I could not get down to working on the assignment earlier. It was over dinner which I felt physically weak and had an itchy throat. I was at Millenia Walk with my family and I told my wife that we needed to go home as I was starting to feel unwell. I tested myself using an ART kit and it indicated that I was Covid-19 positive.
So basically if anyone would like to see what a positive Covid-19 ART test looks like, here it is: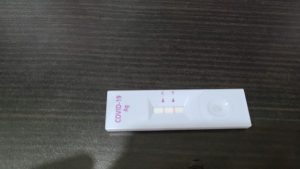 So basically you get two lines that tell you that you're down with the virus.
Amazingly, the symptoms hit pretty quickly. I was perfectly fine for the whole day up until dinner and by 11 pm I was running a fever. I scoured the internet to look for what to do next. I identified a few 24-hour clinics and proceeded to drive myself to one of them. I eventually realised that 24-hours clinics do not actually open for 24-hours. Well, not those that I've tried to visit at least. Thus I proceeded to drive to the emergency department at Tan Tock Seng Hospital. They did another ART test as well as a PCR test (polymerase chain reaction test. Hey I learned that in my forensics module!) and sent me home. I was confirmed as a Covid-19 positive case and was sent home. The following day I received my isolation order via SMS to my mobile phone. I was to isolate myself for 10 days.
This is how it looks like: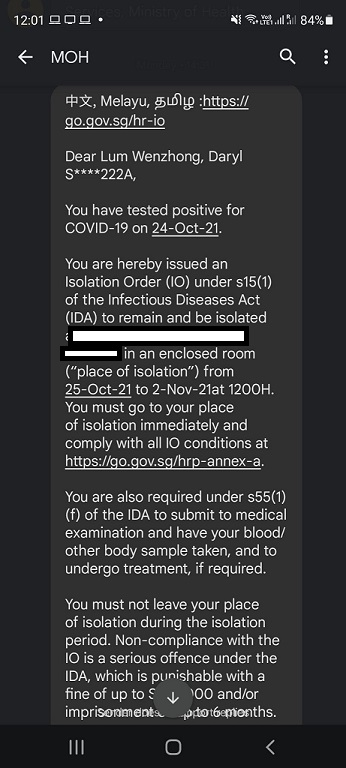 Typically, most individuals would focus on the fact that the isolation order was until 2nd November 2021. However, my first reaction upon receiving this message was to turn on my laptop and look up section 15(1) of the Infectious Diseases Act. This is what completing a legal methods class in law school does to you…
It is currently day 9 of my isolation order and I am generally feeling better. I had severe headaches during the first 3 days of the symptoms manifesting. The headaches were bad enough that I could not read anything for longer than 15 minutes. After the headaches died down slightly, I had body aches and a severe cough. I was actually coughing blood from Wednesday till Saturday. This is also the period when I started to lose my sense of smell and taste. It is currently the 1st of October and I do not feel well yet. I am still exhausted and want to sleep every 6 hours.
My purpose in sharing my experience as a covid-19 positive patient is to highlight the fact that this is not the normal flu. The symptoms are flu-like but they are more severe and extend for a longer period of time. I am generally a very health-conscious 40-year old. I abstain from meat and my diet is very clean. I exercise five times a week and I do not have any pre-existing medical conditions. Yet covid-19 was able to put me down for the last 9 days and should continue to do so for perhaps the next couple of weeks. I would urge my fellow coursemates, schoolmates and anyone who is reading this blog post to practice good safe distancing habits. Avoid going out to crowded areas and try to keep yourself and your family safe from the virus. To those whose examinations are just around the corner, if your symptoms are like mine, it will affect your ability to concentrate and perform during the examinations if you catch the virus during the examination period. I personally struggled through my final 2 assignments with little to no revisions in my final script as I could not read for long periods due to the headache.
That being said, I feel better and should recover in time for the examinations. This semester has been a real rollercoaster ride and it's ending soon. Here's wishing everyone great health, happiness and to all my coursemates, all the best for your examinations!
"When everything seems to be against you, remember that the airplane takes off against the wind, not with it" – Henry Ford.
Yours sincerely,
Daryl